Usage of RSS
On homepage of Sapporo, we deliver the latest information by RSS.
With RSS
It is used for the purpose of telling about article that we updated with news site or blog performing update in technique to deliver entry and summary of article of website frequently.
With RSS leader
We check RSS file and are tool to display latest information.
Leader various types of RSS including software displaying update information of site that we appointed is free and is distributed to software and desktops generating Web page that takes in RSS information of site that we appointed, and settled the update situation.
Registration method of RSS
As URL of RSS is displayed when we click RSS button in the right side of button looking at list of latest information columns published in Motoichi top pages, you register with leader RSS of errand, and please use.
In addition, we publish URL of RSS that Sapporo delivers below.
Figure of image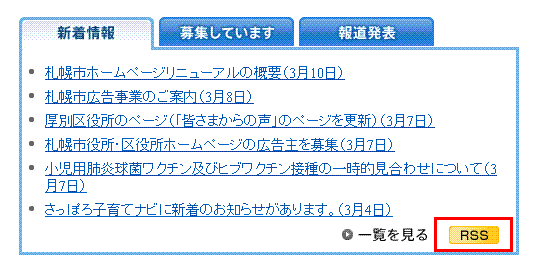 RSS that Sapporo delivers
When information is delivered, we update update of RSS file at any time.
These RSS information can acquire update information quickly by using RSS leader.
Latest information
We will tell about information in the daily latest information, emergency. http://www.city.sapporo.jp/new/shinchaku.xml
We raise
We will tell about various offer information. http://www.city.sapporo.jp/boshu/boshuu.xml
News release
We inform that news release is updated. http://www.city.sapporo.jp/somu/koho/hodo/houdou.xml
Each ward, Maruyama Zoo, Library
We will tell about each Ward Office, Maruyama Zoo, update information of Library.
Latest information of each station
Precautions of RSS
This service does not promise continuation into the future.
We stop service and may change URL by convenience on system.
In the use, we would like in the range of personal responsibility.
For system maintenance, we may suspend service without notice.
Please note that it is not accepted inquiry about how to use software including question about usage of RSS and RSS leader.
About contents delivered to past, you may not see by change of contents and address.
You change without notice about contents which are released, and please note that you may stop.