Citizen interchange open space
 〒004-8613 1, Hiraoka-1-jo, Kiyota-ku, Sapporo-shi (the Kiyota-ku synthesis government building front)
 Various uses including event (event) and festival of area and various groups can use open space (Kiyota-ku citizen interchange open space) in front of the familiar Ward Office in "Kiyota inhabitant of a ward Festival" and "kiyota Marchais & kiyo festival". Power supply facilities, plumbing equipment are maintained, too. When the use is examined, please feel free to contact the following reference.
[to sponsor about infectious disease extended prevention ask]
 In addition, depending on holding contents of event, we may ask sponsor for approach of prevention of infection. For more details, please ask the following reference.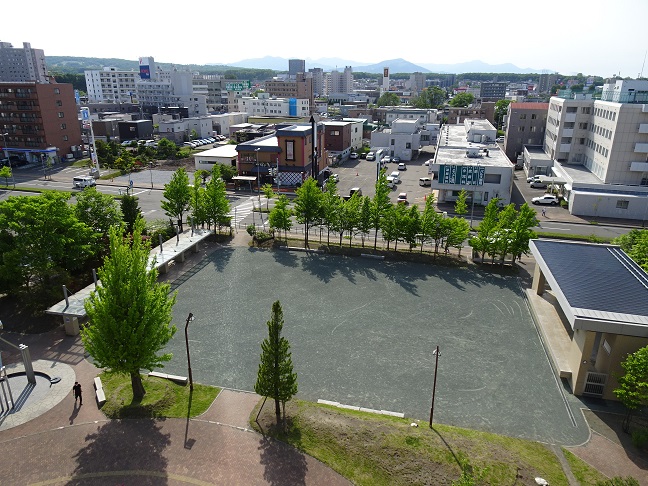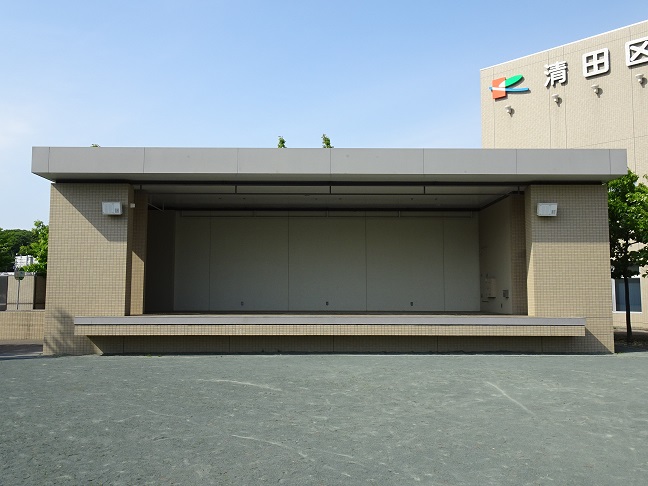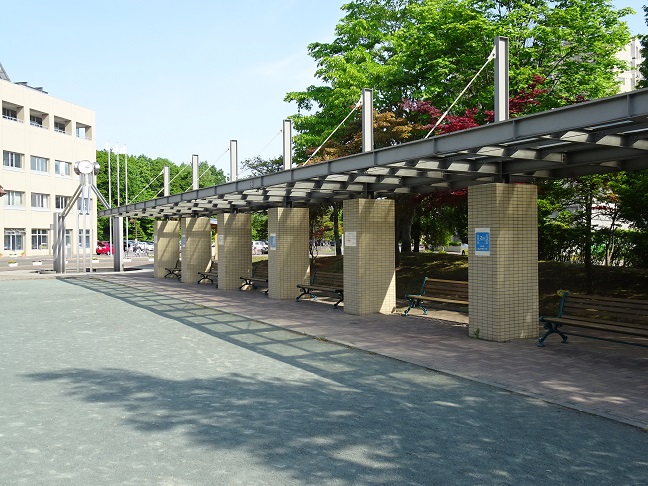 ●Total area
2,778.32 square meter
●Facilities
[bandstand]
29.0m *38.5m
[stage]
Steel frame concrete building, 17.2m in width X 5.9m in depth X 4.3m in height
[pergola]
Awning part: 3.7m in width X extension 24.1m, 2.7m in height
[fountain]
With clock tower
[bench]
In open space and fountain neighborhood
[disaster prevention facilities]
Storage warehouse (stage basement, floor space 81.7 square meters) for disaster prevention
Urgent water tank (open space basement, pondage 100t) for drink
[electricity, water supply]
Power supply (total 100V 230A) is in open space. There are waterworks, drainage near pergola.
※ When you use power supply more than capacity, please prepare generator in the user.
※ On use of plumbing equipment, please consult about usage beforehand.
Parking
Person that citizen interchange open space is used can use the best second Parking (140 in total) in Kiyota-ku synthesis government building. As number is limited, please cooperate with visit with public transport.
●The use time
From 8:00 to 21:30
When use except this time is hoped for, please consult with dead work of event.
●Use rate
1st (8,100 yen), half day (4,100 yen). We sort at 12:30 in half day.
(we may be remitted by regulations.)
●Application method
We accept from 1st six months before scheduled use date. Reception hours is from 8:45 to 17:15 of from Monday to Friday. Apply by predetermined application.
About application method, ask the following department in charge.
●Please cooperate
Act that makes act, the noise that might produce fire and explosion, and is a nuisance to other people is prohibited. In addition, it is open space of all the citizens. After use, please perform settlements of garbage well.
●In this case we cannot use
・ When it is admitted that we might hurt public order and morals
・ When we might produce fire, explosion or other danger
・ When we give the noise and are a nuisance to another person
・ In addition, when we admit that we have difficulty in management administration of open space.
(please refer in detail.)
[department in charge]
Kiyota Ward Office Citizen Affairs Department General Affairs & Planning Section
Phone number: 011-889-2006

[past use example]
 2019 JA Sapporo JA Festival (sponsorship: in Sapporo agricultural cooperative Kiyota branch, 2019)
 
Kiyota contact inhabitant of a ward Festival (sponsorship: in Kiyota ward inhabitant festival executive committee, 2019)
 
kiyota Marchais, kiyo festival (sponsorship: in Kiyota Ward Office, 2019)