Access to city hall
〒060-8611 2, Kita-1-jonishi, Chuo-ku, Sapporo-shi
(main phone number 011-211-2111)
※When you come to city hall, please use public transport as much as possible.
※City hall main government building is full-scale No Smoking in site.
Business hours is from 8:45 to 17:15 on weekdays.
We are absent for Saturdays, Sundays, and holidays, New Year holidays (from December 29 to January 3).
A 15-minute walk, the nearest Station are a 1-minute walk at Subway Odori Station (Namboku Line N07/ Tozai Line T09/ Toho Line H08) from the JR Sapporo Station south exit.
In the west facing of Subway "Exit 31", there is escalator which can appear on ground before city hall main government building.
In addition, we are connected directly in the west 2 chome basement sidewalk and basement.
When you come to city hall, please use public transport as much as possible. Detailed information such as fare or course, timetable gets Sapporo and come and can confirm with bus navigator.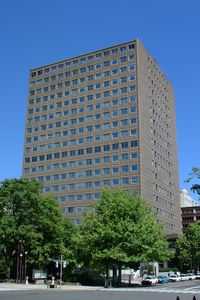 Current main government building was built in 1971 (Showa 46) of the Sapporo Olympics previous year. It is 2 stories under ground and 19 stories above ground, and there is fine-view corridor which can look around the town of Sapporo on the roof (free).
Northwest of Sapporo TV Tower, brown big building are City of Sapporo main government buildings. There is Clock Tower to Odori Park, the north to the south.
Guidance (PDF: 84KB) of each main government building floor (as of ※ April 1, 2020)
Sickhouse measures of City of Sapporo main government building (PDF: 119KB)
In other city halls, please see page of facility guidance.
Main government building trivia
78 meters of amount of height eaves
Building a total of 42,215.97 square meter in area
9,362.05 square meter of plottage
Position 43 degrees N 03' 46", 141 degrees E 21' 18″
Term of works start: May 12, 1969, the completion: November 13, 1971
Construction cost about 4 billion yen

When you see file of Portable Document Format, Adobe Acrobat Reader is necessary. Please download that does not have Adobe Acrobat Reader free from link of banner.